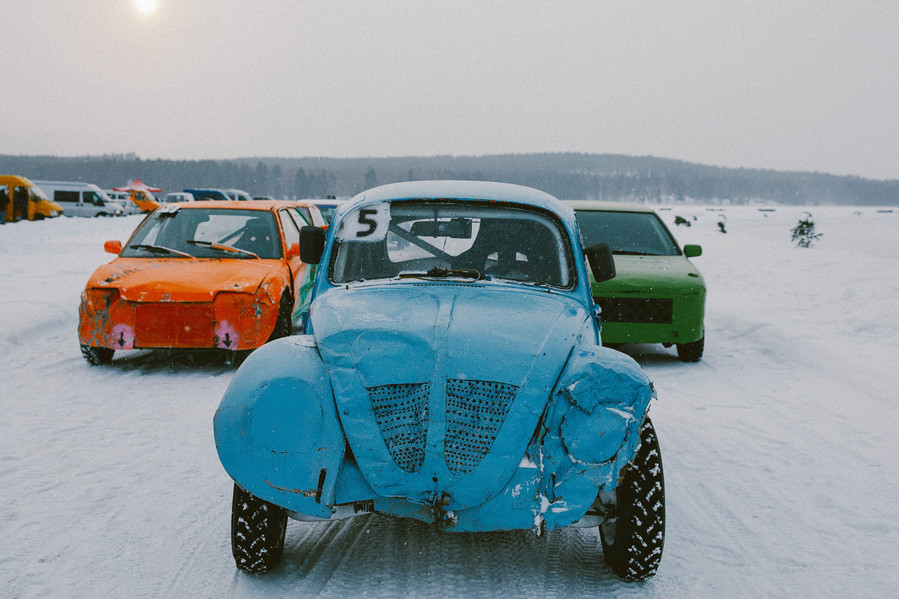 "Until the rust do us apart" is a hand-scribbled slogan on the surface of a bright blue, painted rally car. The vehicle once was a normal Mazda 626 but now it has a new post-roadworthy life as a self-made rally car for Noora Savela, a notoriously talented female teenage driver from rural Finland.
This is Rokkiralli: a Finnish DIY rally scene and a tight-knit community made up of passionate petrolheads, eccentric tinkerers and family teams. The cost of each car is capped at €650 in order to create a level playing field – one where creative ability, driving skills and an appetite for chaos are the only things that matter. What you're left with is a competition that distils racing to its purest form.
In the junior series, 15-to-18-year-olds race on dusty roads and frozen lakes around Finland each year. Teenage car culture is deeply ingrained here, but for the pale and pimply teens who criss-cross the country each season, Rokkiralli stands out in a social calendar severely limited during the harsh winter months – especially in the isolated, rural towns that many of them call home.
"It's a liberating feeling to sit in your car on the starting line and forget everything else; whether it's school or personal problems. You don't have to think, just drive." - Eetu, 16
Teen drivers create strong bonds through mutual passion: Rokkiralli is one big family where older competitors offer spare parts, tools, advice and even loan cars to the younger ones who have not built their own just yet. For many of these teens racing isn't just a hobby, they are skilful mechanics and pay and design their cars themselves, it is a social network and potential future profession.
Read more about Rokkiralli at: